| | |
| --- | --- |
| Price: | £129.95 |
| Prod. Code: | F4 |
by Manopoulos of Athens, Greece
Themed Chess Pieces:
King height: 6.5cm

King

base diameter: 2.3cm
Gold and silver coloured
Handmade from zinc alloy
Brass and nickel plated
Lacquered to create a luxurious feel and to prevent tarnishing
Heavy weighted chess pieces for an opulent feel
Chess Board Not Included
Recommended Chess Boards
Minimum recommended Chess Board Square Size: 36mm
A spectacular themed chess set based around the Greek mythological figure of Poseidon. Poseidon, the characteristically bearded 'God of the Sea' carrying his Trident, is the King - ready to strike the ground at any moment to create earthquakes, floods and drownings! The famous statue of Poseidon discovered on the Island of Melos, originally created there c.130 BC, provides the perfect anchor for this exquisitely detailed themed chess set.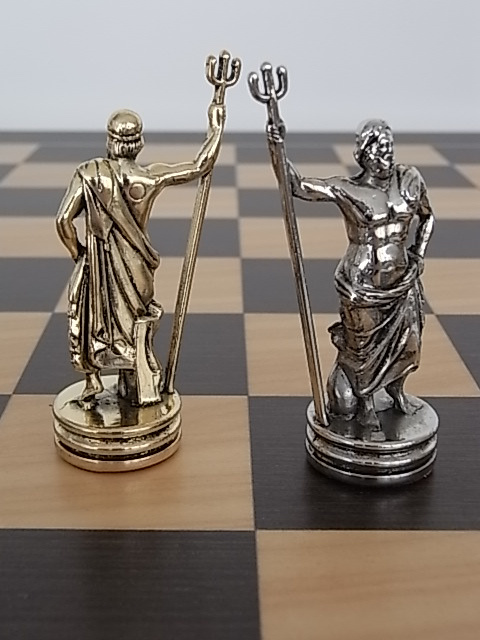 Athena, the goddess of wisdom, war, and household crafts (textiles and spinning) and from whom the great city of Athens takes its name, is the Queen. This themed chess piece is based on the Athena Promachos (the 'Warrior') created by the Athenian sculptor Pheidias. It was originally erected in the Acropolis in c.456 BC, later to be transferred to Constantinople. Complete with helmet, aegis (small shield or breastplate) and lance, the original bronze statue stood some 9m (30 feet) high and could be seen from many miles away.
The Bishop featured in the following image is inspired by a bronze statue now housed in the National Museum of Athens, dated towards the end of the second century BC from the Hellenistic Period.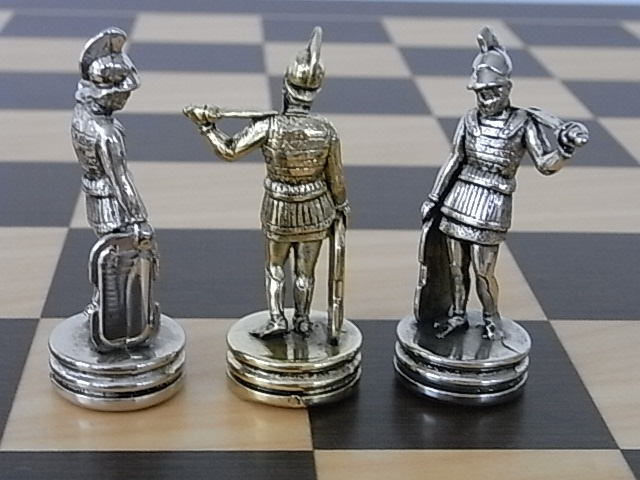 Sculpted by Pheidias in c.566 BC, a horse with its rider based on an original from the marble facade of the Parthenon, has inspired the Knight. See for yourself the elegant flow and level of detail in the following images of this themed chess piece...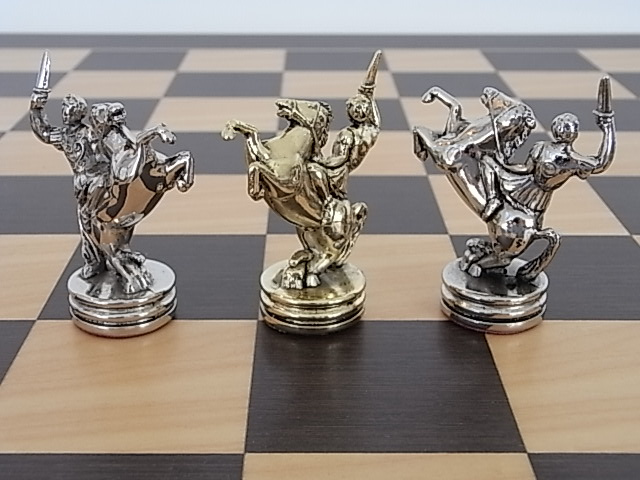 The Stele of Aristion provides the inspiration for the Castle. Dating back to c.510 BC, the funerary stele (or grave monument) of Aristion, an Athenian bearded warrior, is now safely housed in the Department of Sculptures in the National Archaeological Museum, Athens. Discovered in 1839, the original stele stands some 2.4m high and, according to the inscription on the base, was the work of Aristokles. The figure is seen wearing a kyne - a type of leather cap.
The pawn is a representation of a Spartan soldier dated c.500 BC. The soldiers comprising the Spartan army are legendary and undoubtedly deserve their reputation as some of the greatest warriors that have ever lived. Hardly surprising when you consider that only the strongest babies were allowed to survive (infanticide was widespread) and that they were taken from their parents at the age of 7 years to train, and spend most of their lives as, soldiers. Harsh conditions, physical hardships, emotional deprivation, the endurance of pain and self-denial were all used to create a brutalised fighting man.
Chess Board Not Included
Recommended Chess Boards
Minimum recommended Chess Board Square Size: 36mm
About your CheckmateChessSets products...
Our commitment to you and your complete satisfaction here at your CheckmateChessSets means that we are only prepared to present to you theme chess pieces and chess boards of the highest quality and craftsmanship. Derived from original sculptures, all the themed chess pieces featured within our catalogue here at CheckmateChessSets are authentic high quality items.
You don't need a PayPal Account to pay via Paypal!
Order Online: 24 hours a day - 7 days a week - 365 days a year
FREE UK Shipping!
(This is a strictly limited time offer only which may be withdrawn at any time and without notice. Offer applies to all our chess sets, chess pieces and chess boards but not to our Replacement Chess Pieces service. Shipping on books may vary and is detailed individually as applicable)
---
Important Disclaimer: The products featured at checkmatechesssets.co.uk are neither designed
nor intended for use as toys and are not suitable for children under 6 years of age
checkmatechesssets.co.uk is wholly owned and operated by DC Marketing Services Limited, a company incorporated in England
Copyright DC Marketing Services Limited 2020 - All Rights Reserved
Home | Tell-A-Friend | Alice In Wonderland | American Themes | Battle Themes | Fantasy & Legend Themes | Golf Theme | Historical Themes | Medieval & Gothic Themes | Music & Cultural Themes | Decorated Themed Chess Sets | Plain Chess Piece Sets | Isle of Lewis Chess | Wood Chess Boards | Kids Chess Set | Replacement Chess Pieces | About Us | Contact Us | Payment & Security | Shipping | Returns | Privacy | FAQs | Terms & Conditions | Sitemap
ThemeChess is our Blog dedicated to all things related to theme chess so why not visit with us and join in the conversation!
Battle Chess Set is our new Blog all about battle theme chess sets!